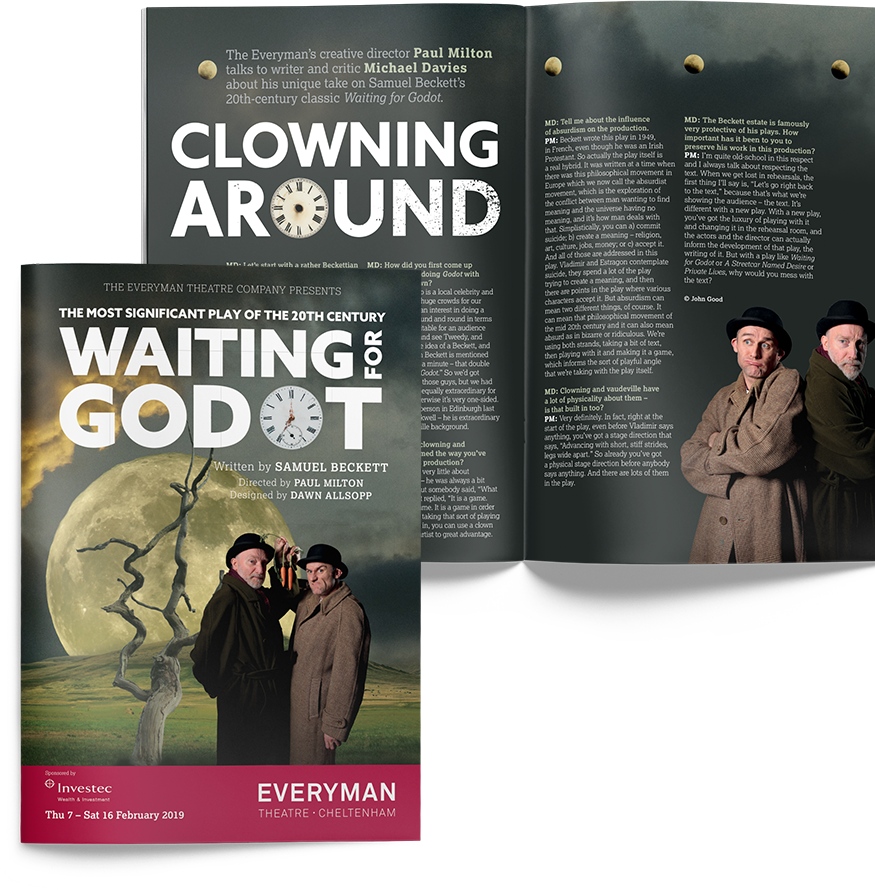 Blog
Cheltenham Everyman - Waiting for Godot
Cheltenham Everyman Theatre approached us to design and produce a programme for an upcoming production of Waiting for Godot. Our brief was simple… to create a programme that reflects the themes of the play, namely: Time, Men of a certain age and Theatre of the absurd.
We met with Francesca and Paul who brought along some helpful visual references of ways to portray the concept of time such as using clocks, bells and alarms. Our designer, Atul, also then considered the use of phases of the moon to depict the passing of time, taking a cue from the large moon which appeared in the promotional artwork. The promotional artwork also helped set the tone and the colour palette of muted greys and greens.
Following the meeting Atul put together an early draft proof, which was sent for approval, with additional design notes to clarify any conceptual ideas. This helped to make the early design process a more collaborative and shared experience between the theatre and ourselves. Once these were approved, the design was expanded and a more complete proof supplied.
"We engaged John Good to originate the programme for our in-house production of Samuel Beckett's Waiting for Godot, which involved designing the layout using our existing artwork and pictures and expanding and reworking the design to fit the programme requirements.  John Good researched a timeline for Beckett with his picture and originated editorial including an interview with the Director.  We were really delighted with the end result which looked classy and original.  We had only a limited budget as the show ran at the Everyman Theatre for a short run (10 days).  John Good worked extremely efficiently within this budget and worked very closely with us to ensure that our brief was met and that the end result was excellent.  In fact, so good was it, that we needed extra copies and John Good reacted quickly and efficiently to get us a reprint within 2 days, so that we did not run out.  We were delighted with the advice and help and it is always such a pleasure to work with their friendly and dedicated team."
Francesca Goddard, Corporate Partnership Manager, Cheltenham Everyman Theatre