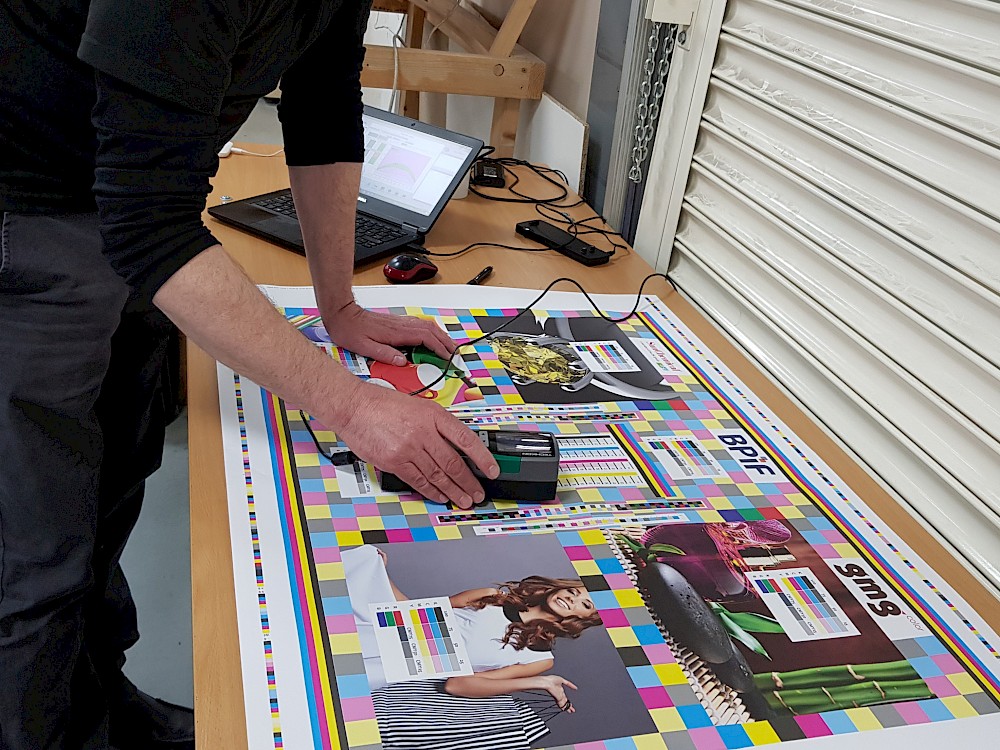 Blog
Colour and Quality
It's June already, and we are busy here in Rugby working closely with one of the leading ink manufactures to keep our presses printing to ISO standards.
ISO 12647-2 is an international standard in the print industry which specifies a number of process parameters and their values to be applied when preparing colour separations for four-colour offset printing as used here in our Rugby printing works.
The majority of our work is printed using four colours - Cyan, Magenta, Yellow and Black also known as CMYK.  We apply each colour ink to the substrate (usually paper or board) with separate print units.  Each unit is made up of numerous inking and damping rollers, cylinders to transfer the paper into the unit, a plate cylinder, blanket cylinder and impression cylinder and then cylinders to transfer the paper out of the unit.  There are many variables that can affect the ink application to the substrate, which in turn effects the colour of the finished product.  Each dot on the plate carries ink which is transferred onto the paper using offset. As the ink coats the paper it tends to spread. The percentage that the printed dot is larger than the dot on the plate is called dot gain. The effect of dot gain is that the colour applied to the substrate appears darker than was intended, therefore we reduce the dot at the plating stage to take into account the dot gained on press, and to keep the colours accurate.
Whilst we have not yet applied for certification, we believe it is important for us to still meet the standard set by ISO 12647-2, therefore it is vital that we work continuously behind the scenes, regularly running test sheets through our presses on various substrates to measure dot gains. Any required corrections are then imported back into pre-press to make sure the correct amount of ink is applied to the paper as it passes through the printing machine, helping to ensure the work we produce is as of the highest quality and produced as per the specification, and helping us to meet our clients high expectations.